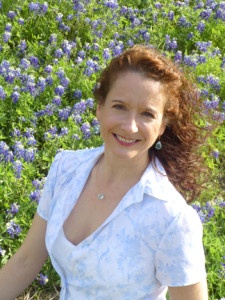 About the Author
Though Maria Grace has been writing fiction since she was ten years old, those early efforts happily reside in a file drawer and are unlikely to see the light of day again, for which many are grateful. After penning five file-drawer novels in high school, she took a break from writing to pursue college and earn her doctorate in Educational Psychology. After 16 years of university teaching, she returned to her first love, fiction writing.
She has one husband, two graduate degrees and two black belts, three sons, four undergraduate majors, five nieces, sewn six Regency era costumes, written seven Regency-era fiction projects, and designed eight websites. To round out the list, she cooks for nine in order to accommodate the growing boys and usually makes ten meals at a time so she only cooks twice a month.
She can be contacted at:
Facebook: http://facebook.com/AuthorMariaGrace
On Amazon.com: http://amazon.com/author/mariagrace
Random Bits of Fascination (http://RandomBitsofFascination.com)
Austen Variations (http://AustenVariations.com)
English Historical Fiction Authors  (http://EnglshHistoryAuthors.blogspot.com)
White Soup Press (http://whitesouppress.com/)
On Twitter @WriteMariaGrace
On Pinterest: http://pinterest.com/mariagrace423/
~Maria's Novels ~
Darcy's Decision
Given Good Principles Volume 1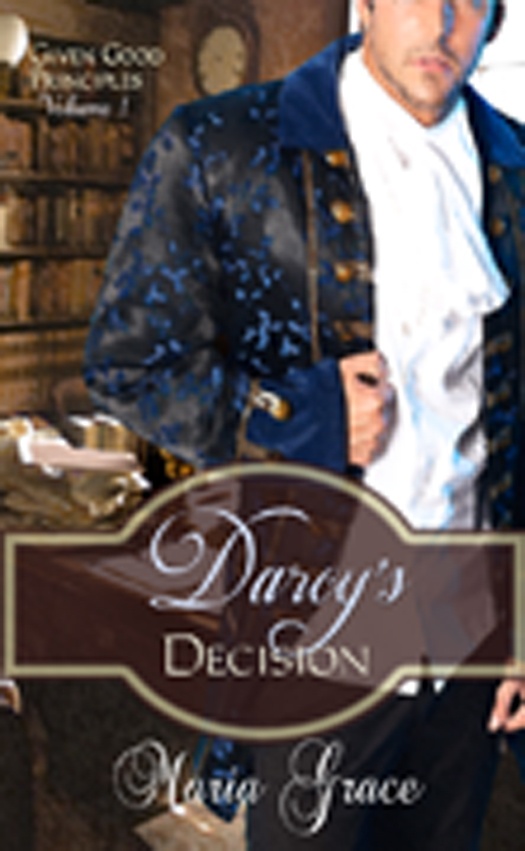 Six months after his father's passing, Fitzwilliam Darcy still finds solace in his morning reflections at his parents' graves. Only in the quiet solitude of the churchyard does he indulge his grief. None but his unlikely mentor recognize the heartache and insecurity plaguing him as he shoulders the enormous burden of being Master of Pemberley. Not all are pleased with his choice of adviser. Lady Catherine complains Darcy allows him too much influence. Lord Matlock argues, "Who is he to question the God-appointed social order?" But the compassionate wisdom Darcy finds in his counselor keeps him returning for guidance even though it causes him to doubt everything he has been taught. In the midst of his struggles to reinvent himself, his school chum, Charles Bingley, arrives. Darcy hopes the visit will offer some respite from the uproar in his life. Instead of relief, Darcy discovers his father's darkest secre
t staring him in the face. Pushed to his limits, Darcy must overcome the issues that ruined his father and, with his friends and mentor at his side, restore his tarnished birthright.
The Future Mrs. Darcy
Given Good Principles Volume 2
With the regiment come to camp in Meryton, many young ladies are pleased. Not all share their enthusiasm. Among them, Mr. Carver, who removes his family from Meryton's savage society. He blames, not on the militia officers, but the Bennet family. The flirtations and boisterous ways of the youngest sisters are too much to be borne. Not even Jane's renowned beauty and charm can make up for them.   Elizabeth denies the allegations at first, but rapidly uncovers the shocking truth. The Carvers are not the only family to cut the Bennets from their acquaintance. Their reputations materially damaged, the family borders on social ruin.   The news is too much for Mrs. Bennet who collapses from the shock. So, Elizabeth and her sisters must manage the estate until she recovers, a task for which none of them is prepared.   Warned by Mr. Pierce, the local curate, that several of the officers have unsavory designs on the local girls, Elizabeth must find a way to honor her father, rein in her sister and salvage the family's reputation, all in the most ladylike way possible.
All the Appearance of Goodness
Given Good Principles Volume 3
What is a young woman to do? One handsome young man has all the goodness, while the other, the appearance of it. How is she to separate the gentleman from the cad?
When Darcy joins his friend, Bingley on a trip to Meryton, the last thing on his mind is finding a wife. Meeting Elizabeth Bennet changes all that, but a rival for his affections appears from a most unlikely quarter. He must overcome his naturally reticent disposition if he is to have a chance of winning her favor.
Elizabeth's thoughts turn to love and marriage after her sister Mary's engagement. In a few short weeks, she goes from knowing no eligible young men, to being courted by two. Both are handsome gentlemen, but one conceals secrets and the other conceals his regard. Will she determine which is which before she commits to the wrong one?

Twelfth Night at Longbourn

Given Good Principles Volume 4
Twelfth Night—a night for wondrous things to happen.
At least for other people.
In the months after her sisters' weddings, nothing has gone well for Kitty Bennet. Since Lydia's infamous elopement, her friends have abandoned her, and Longbourn is more prison than home. Not even Elizabeth's new status as Mrs. Darcy of Pemberley can repair the damage to Kitty's reputation. More than anything else, she wishes to leave the plain ordinary Kitty behind and become Catherine Bennet, a proper young lady.
Her only ray of hope is an invitation to Pemberley for the holidays. Perhaps there she might escape the effects of her sister's shame.
Getting to Pemberley is not as simple as it sounds. First she must navigate the perils of London society, the moods of Georgiana Darcy, and the chance encounter with the man who once broke her heart. Perhaps though, as Catherine, she might prove herself worthy of that gentleman's regard.
But, in an instant all her hopes are dashed, and her dreams of becoming Catherine evaporate. Will Kitty Bennet's inner strength be enough to bring her heart's desire?
On an ordinary night perhaps not, but on Twelfth Night, it just might be enough.
Bits of Bobbin Lace
Given Good Principles Outtakes and Bonus Chapters.

Free on this site.  Click the book cover for download
 
Given Good Principles Boxed Set
Given Good Principles Volumes 1~4
Remember the Past
When Elizabeth's father, Rear Admiral of the White, Thomas Bennet, retired from His Majesty's navy, little did she know her family's battles had only just begun.
Elizabeth Bennet's father, Admiral Thomas Bennet, assures his daughters that his retirement from His Majesty's Navy will be the start of a new life for them all. Little does he know his family's battles have only just begun. 
 Well-connected and in possession of a good fortune, their entry into society should have been a triumph.  However, their long-awaited first season in London proves a disaster, and the resulting scandal sends the Bennets fleeing to the wilds of Derbyshire.
 Widower Fitzwilliam Darcy, the master of Pemberley, wants for nothing, most especially not a wife. From the moment the Bennets arrive in Derbyshire, Darcy's neatly ordered life turns upside down. His sons beg to keep company with their new playmates, the young Bennet twins. His mother-in-law sets her cap for Admiral Bennet. Worst of all, Darcy cannot get his mind off a certain bewitching Miss Elizabeth Bennet, but she has sworn never to let another gentleman near her heart. 
 Darcy's best efforts to befriend and assist the Bennet family go horribly awry, alienating first Miss Elizabeth, then her father, and finally endangering what both men hold most dear. Can the two men Elizabeth loves most set aside their pride to prevent catastrophe for their families and win the love they seek?