A confirm
ed Jane Austen addict, Monica Fairview used to be a literature professor, but her compulsion to write something other than scholarly articles pushed her over the edge, and resulted in her first published  novel, the Regency romance, An Improper Suitor.
Now she dedicates whatever time she can spare from raising a very active daughter to writing and reading –and more writing. Born in London, Monica lived in the USA for many years. She loves to chuckle, read, and visit historical places. Sometimes she enjoys doing nothing at all. When she has the time.

So far Monica has written two Jane Austen sequels. The Other Mr Darcy focuses on Caroline Bingley and introduces Mr. Darcy's American Cousin Robert, while The Darcy Cousins on Georgiana Darcy. A short story of hers appeared in Laurel Ann Nattress's anthology Jane Austen Made Me Do It, featuring a number of your favorite Austenesque authors, published in Ballantine. She has written one neo-Victorian/futuristic novel based on Pride and Prejudice, Steampunk Darcy, and a traditional Pride and Prejudice Variation Mr. Darcy's Pledge (Vol. 1)
Visit Monica's website.  Follow her on Facebook and on Twitter @Monica_Fairview
~ Monica's Novels ~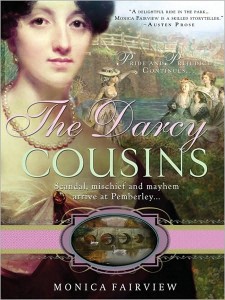 The Darcy Cousins
There are surprises in store for that bastion of tradition, Rosings
Park, when the family gathers for their annual Easter visit. Georgiana
Darcy, generally a shy model of propriety, decides to take a few lessons
from her unconventional cousin, and Anne de Bourgh simply – vanishes. In this tale of friendship, rebellion, and love, two young women entering Society forge a
strong connection, a connection that is sorely tested when they both
set out to win the heart of a most dashing – and dangerous – gentleman.
The Other Mr. Darcy
Did you know that Mr. Darcy had an American cousin?!
When Caroline Bingley, for the first time in her life, collapses to the  floor and sobs at Mr Darcy's wedding, she does not think anyone is watching. Imagine her humiliation when she discovers that a stranger has
witnessed her unusual emotional display. Miss Bingley, understandably, resents this unknown gentleman very much, even if he is Mr Darcy's America cousin.
A year later, when she is forced to travel to Pemberley with Robert Darcy, she still has not forgiven him. But her attempts to snub him fail completely, and, as the Bennets descend upon them, she finds herself spending more and more time in his company.
Is there more to the infamous Miss Bingley than meets the eye? And can this other Mr Darcy break through her reserve?
Jane Austen Made Me Do It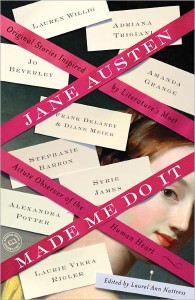 Edited by Laurel Ann Nattress. My contribution – "Nothing Less than Fairyland" – is a sequel to Emma.
In this gently humorous story, the day has come for Mr Knightly to move into Hartfield, but Mr Woodhouse is still not reconciled to the marriage. Trouble looms on the horizon, unless Emma can quickly come up with a way to convince her papa to accept Mr Knightly's presence.
An Improper Suitor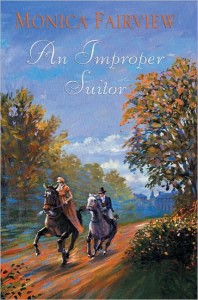 A lady in possession of an independent fortune has no need for a husband. Miss Julia Swifton, secure in that belief, has made no attempt to search for one, even after three seasons in London. That is until her grandmother, an advocate of women's rights, rises from her deathbed and threatens, of all things, to marry her to a notorious rake, Lord Thorwynn.
Shocked into action, Julia launches into a search for an intelligent, scholarly husband who will suit her. On her way she has to rescue a fallen "angel," save a rake from being forced into marriage, defeat an unscrupulous gamesmaster who needs to seduce her for money, and avert a friend's disastrous runaway marriage. Fortunately, she does not have to do it alone. Even if her companion, Lord Thorwynn, is the last person she would ever want to marry.
William Darcy is obsessed with his ancestors. So much so that he intends
to rebuild Pemberley (destroyed during the Uprising) stone by stone,
and he wants to employ reconstruction expert Seraphene Grant to help
him.
Or does he? Seraphene wasn't born yesterday. She can smell a
rat, particularly when it stinks all the way up to her airship. She
knows Darcy is hiding something. But with the Authorities after her and
her other options dwindling by the moment, the temptation of genuine
English tea and a gorgeous Steampunk gentleman are very difficult to
resist.
But what if Darcy's mystery job courts nothing but
trouble? What if Darcy is harboring a secret to kill for? When kiss
comes to shove, will Darcy's secret destroy Seraphene, or will it be her
salvation?
Join us on a romantic adventure like no other in this whimsical Pride and Prejudice-inspired tribute, featuring Darcy (of course), Wickham, dirigibles, swashbuckling pirates and a heroine with fine eyes and an attitude.
Mr. Darcy's Pledge
Torn between his heart and his mind… Mr. Darcy must make a choice.
Fitzwilliam Darcy has always been able to keep his emotions under control. That is, until he falls under the spell of Elizabeth Bennet and surprises himself by blurting out a proposal to her like a moon struck youth. Stung to the quick by her rejection, his pride in tatters, and left with no possibility that she will ever love him, Darcy determines to put all thoughts of Elizabeth behind him. But not even Town with its boundless opportunities for amusement can keep the image of Elizabeth Bennet from pursuing him everywhere he goes.
By the time Darcy leaves Town to travel up to Pemberley, he has learned one thing. There is only one way of overcoming Miss Bennet's bewitching hold over him and Darcy is desperate enough to try it. The solution is to get married. And this time, he is not going to choose a wife by allowing his emotions to lead him by the nose.
His choice will be entirely rational…
In Volume I of this Pride and Prejudice variation, Monica Fairview traces Mr. Darcy's journey as he struggles to come to terms with the upheaval Elizabeth Bennet has caused in his life…and his heart.
Kindle USA|Kindle UK|Kindle CA|Nook
Mr. Darcy's Challenge
In this humorous Pride and Prejudice Variation, Mr. Darcy is determined to win Elizabeth Bennet's hand in spite of her rejection and he has a strategy worked out. He will rescue Lydia Bennet from Wickham and will return to Longbourn to convince Elizabeth to marry him.
But when a chance encounter prompts Darcy to propose once again to Elizabeth before he has rescued Lydia, his plans go horribly wrong.
Broken hearted, disillusioned and bitterly regretting his impulsive action, Darcy sees no point in assisting Miss Bennet. After all, rescuing Lydia might save Elizabeth's reputation, but why should he care when they have no future together? His code of gentlemanly conduct, however, demands that he fulfill the terms of his promise to her. Once again, Darcy finds himself faced with impossible choices: helping Elizabeth when she is certain to marry someone else, or holding onto his dignity by turning his back on the Bennets once and for all.
Pride and love are at loggerheads as he struggles to choose between his mind … and his heart.
Volume Two of The Darcy Novels continues the story began in Mr. Darcy's Pledge but can be read as an independent book as well.
Kindle USA|Kindle UK|Kindle CA|Nook
Paperback|Smashwords|Kobo|iTunes|